---
---
God & Country Home
Search Page
---
---
AARON BURR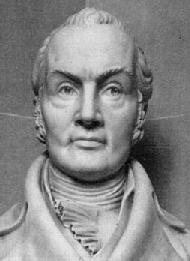 1756-1836
3rd Vice President (1801-1809)
---
---
Education: College of New Jersey (Princeton)
Occupation: lawyer
Political Affiliation: Republican
---
Religious Affiliation: Presbyterian
Summary of Religious Views:
Burr's father was a minister, and, although his father died when he was 3, Burr was raised in a strict religious environment. After graduating from college, Burr studied briefly for the ministry, before choosing the law as his profession.
A minister was present during Burr's last days, but Burr, who was alert, lucid, and able to communicate until the very end, though he was hospitable to the clergyman, did not request, and was not given, the holy sacrament.
Views on Religion & Politics:
---
Quotations:
"On that subject I am coy." -- answer to Rev. Dr. P. J. Van Pelt, when asked if he expected salvation
---
---
References, Links, & Further Reading: Books, Articles, Links
Books
Articles
Links
---
---
God & Country Home
Search Page
---
---