---
---
God & Country Home
Search Page
---
---
JOHN C. CALHOUN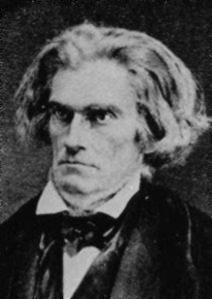 1782-1850
7th Vice President (1825-1829)
---
---
Education: Yale
Occupation: lawyer, planter
Political Affiliation: Democrat
---
Religious Affiliation: Unitarian?
Summary of Religious Views:
Calhoun was raised in a strongly Presbyterian household. Always deeply interested in religion, he was quite learned in the subject. Although he never joined a church, and refused to profess himself a Christian, he frequently attended church, particularly the Episcopal church to which his wife belonged. He contributed money to the construction (& is listed as a founding member) of the First Unitarian Church of Washington (which later became All Souls Church), and, for a time, at least, seemed to favor that group. According to one biographer, in matters of religion, "Even his friends had no idea where he stood." (Margaret L. Coit, John C. Calhoun: American Portrait, p. 508)
When Calhoun was on his deathbed, he turned away the Senate chaplain, who had come intending to minister to him.
Views on Religion & Politics:
---
Quotations:
"To the Infinite Being, the Creator of all, belongs exclusively the care and superintendence of the whole. He, in his infinite wisdom and goodness, has allotted to every class of animated beings its condition and appropriate functions; and has endowed each with feelings, instincts, capacities, and faculties, best adapted to its allotted condition. To man, he has assigned the social and political state, as best adapted to develop the great capacities and faculties, intellectual and moral, with which he has endowed him; and has, accordingly, constituted him so as not only to impel him into the social state, but to make government necessary for his preservation and well-being." -- Disquisition on Government
---
"I won't be told what to think!" -- said in turning away Rev. C. M. Butler, Senate chaplain, who had come to minister to Calhoun during his final illness.
---
References, Links, & Further Reading: Books, Articles, Links
Books
Articles
William S. Belko, "John C. Calhoun and the Creation of the Bureau of Indian Affairs: An Essay on Political Rivalry, Ideology, and Policymaking in the Early Republic," South Carolina Historical Magazine Vol. 105, No. 3, 2004, pp. 170-197
Paul F. Boller, Jr., "Calhoun on Liberty," South Atlantic Quarterly, 66, Summer 1967, pp. 395-408
Lacy K. Ford, Jr., "Inventing the Concurrent Majority: Madison, Calhoun, and the Problem of Majoritarianism in American Thought," Journal of Southern History, 60, February 1994, pp. 19-58
Lacy K. Ford, Jr., "Republican Ideology in a Slave Society: The Political Economy of John C. Calhoun," Journal of Southern History, 54, August 1988, pp. 405-424
William W. Freehling, "Spoilsmen and Interests in the Thought and Career of John C. Calhoun," Journal of American History, 52, July 1965, pp. 25-42
J. William Harris, "Last of the Classical Republicans: An Interpretation of John C. Calhoun," Civil War History, 30, September 1984, pp. 255-267
Ralph Lerner, "Calhoun's New Science of Politics," American Political Science Review, 57, December 1963, pp. 918-932
Links
---
---
God & Country Home
Search Page
---
---