---
---
God & Country Home
Search Page
---
---
SAMUEL CHASE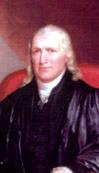 1741-1811
Signer of the Declaration of Independence (Maryland)
---
---
Education: private tutoring
Occupation: lawyer, Supreme Court Justice
Political Affiliation: Federalist
---
Religious Affiliation: Episcopalian
Summary of Religious Views:
Chase's father was an Anglican priest, and Chase was by all accounts deeply religious all his life. He attended services frequently, Contributed substantial amounts of money, and sometimes served as a vestryman and as a representative for his church at diocesan conventions.
Views on Religion & Politics:
Chase was an advocate of public support for religion. In 1784, he introduced a bill in the Mary land legislature to provide tax support for churches (non-Christians would have been exempted from paying the tax), but the bill was ultimately defeated.
Although a slaveholder himself, his religious convictions led Chase to support the abolition of slavery.
---
Quotations:
"There is no repentance in the grave; for after death comes judgment; and as you die so you must be judged. By repentance and faith, you are the object of God's mercy; but if you will not repent, and have faith and dependance upon the merits of the death of Christ, you die a hardened and impenitent sinner, you will be the object of God's justice and vengeance. You will sincerely repent and believe, God hath pronounced his forgiveness; and there is no crime too great for his mercy and pardon." -- as judge, trial of John Fries, 1800
---
"God gives life." -- refusing medication, on his deathbed, 19 June 1811
---
References, Links, & Further Reading: Books, Articles, Links
Books
Articles
William H. Wroten, Jr., "Samuel Chase - Freedom's Firebrand," Salisbury Times, March 23, 1959
Links
CHASE, Samuel, 1741-1811 (Biographical Directory of the US Congress)
Samuel Chase (ushistory.org: Signers of the Declaration of Independence)
Samuel Chase (The OYEZ Project -- Northwestern University)
Samuel Chase (FindLaw)
The Duel: Samuel Chase (The American Experience -- PBS)
Samuel Chase (Colonial Hall)
Samuel Chase (Signers of the Declaration of Independence -- National Park Service)
---
---
God & Country Home
Search Page
---
---