---
---
God & Country Home
Search Page
---
---
WILLIAM SAMUEL JOHNSON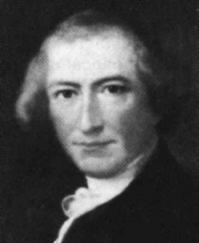 1727-1819
Delegate to the Constitutional Convention (Connecticut)
---
---
Education: Yale
Occupation: lawyer, college president
Political Affiliation: Pro-Administration
---
Religious Affiliation: Presbyterian, Episcopalian
Summary of Religious Views:
Johnson's father had been a Congregational minister, but became an Anglican minister prior to his son's birth. Although his father wanted him to become a minister, Johnson rejected this and instead chose the law as his career.
When Johnson's father was president of King's College (later Columbia), there was a disagreement between Presbyterian and Anglican supporters of the college. Johnson's father asked Johnson to produce a pamphlet defending the Anglican side, but this Johnson refused to do.
Views on Religion & Politics:
---
Quotations:
---
---
References, Links, & Further Reading: Books, Articles, Links
Books
Articles
Links
---
---
God & Country Home
Search Page
---
---